salam!
it's been 3 days since the holidays starts and i'm baking hot at home. even i'm outside in shopping complexes, i feel the heat. alhamdulillah!
yeah, went to lotsa malls and i wanna tell stories about borders. yes!! went to borders last saturday. it was awesome. best gilak. i can spend the whole day there. i wanna go again before the holiday ends, insya-Allah, and begged my mom to buy me a book i really want - master the art of digital photography. the contents was just so good that i need to have it! owh i'll talk about borders later but i've got news flash!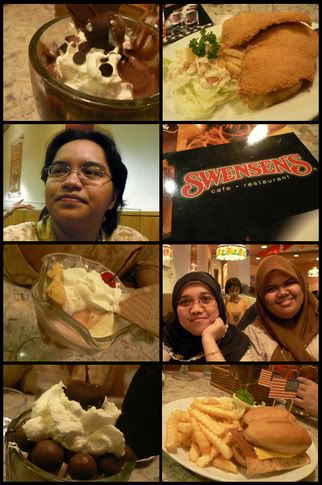 yep! met wtl with tatot last nite. it was simply amazing. we went swensening. hahahaha... we turned up late, tatot had something(it's ok gurl...!and ingat, give ur dad some biskut tiger for energy ta! hikhikhik!) and we arrived 1/2 hour late. sorry la sis wtl. but she was sweet and all...like the sticky chewy chocolate she ordered. hehehehe...
we talked, about err...girly stuff...which i guess, men are better off on our date this time round. we had fun talking and eating and teasing the budak-suara-serak-waiter. hahahaha!!
to wtl ~ sorry i didn't do much of a talking. shy girl la plak tetiba. wakakakakaka!! so unbelievable! and it was great seeing you at last. (

and also azhar sulaiman! hikhikhikhik....

) nanti kita meet-up again, for movies ke? eh tatot! aku takderlah susah sangat nak ajak keluar. tarik telinga kang!
till later, i'm off, to pack my things. i'm heading for jb tomorrow. i've plans to snap pictures, kalau tak panas macam kat KL nih.
take care people. and please, drink alot of water!
wassalam.