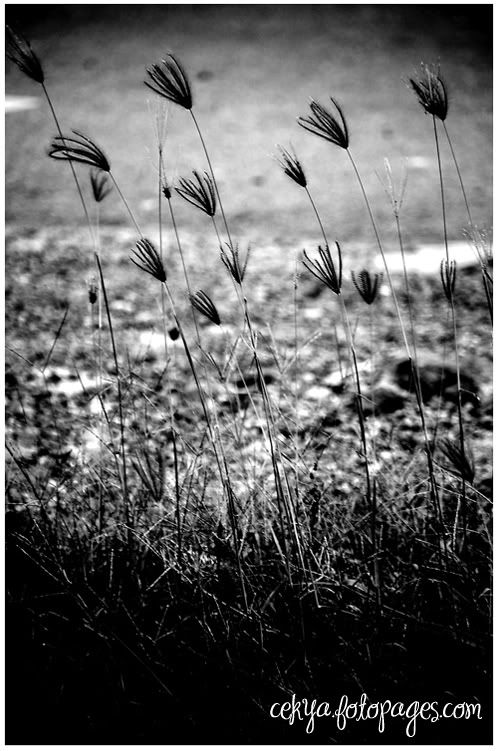 salam!
wow. dah masuk 5th day of ramadhan. i've been sick. demam yang hanya panas dalam badan. tak keluar haba2 panas tuh. baru malam semalam cekya perasan! dok confuse, why am i having continuious headache. tak baik-baik. badan rasa lemah jek. seram sejuk plak tu. kalau pegang badan cekya, macam mayat hidup kot. sejukkkk je but only Allah knows how i'm handling the heat in my body. both ears dah rasa bisa, tekak perit and my nose, kalau tak kanan, kiri yang blocked. sheesh!! pening kepala...toksah cerita lah!
pening the whole day. berair-air mata menahan perit dan rasa sungguh tak comfy. dugaan la semua ni. and last nite, baru terfikir, maybe demam. so i drank alot of hot water, milo, hot tea, bagi tenaga and masa bangun sahur tadi, badan berpeluh-peluh. the heat dah slowly out of my body!!!
and alhamdulillah, hari ni cekya dah elok sikit. rasa bertenaga nak pi kerja eventhough mengantuk sikit.
anyways, i've been wanting to write about problems. on how you handle it. one of the ways, is to talk things over with your closest friend or family. and you have to admit that you have set in your mind that you want people to react in certain ways after listening to you. correct?
as for me, when i talk about my problems or issues, i expect people to listen to me. comments or ideas jatuh tempat kedua. and for the reaction, i would prefer sombre answers or suggestions. shall i say, some mature approach?
i have friends who literally shouts, pissed off that instant and say harsh words when i tell them my problems. not at me, but people or things that are causing me sadness or things like that. i do appreciate such gesture. it shows that they really care but SHOUT? adeh. maki hamun tu jangan cakap la kan.
like hellooo!!! i'm having problems here. not you. i would appreciate some calmness and maturity on how you handle my 'aduan-aduan'. geez!! talkabout being emotional!! senang cerita, baik tulis kat blog nih aje. i have my blogsahabats who talks without any sound.
please guys, a round of applause for miss comments-space & mt haloscan...!hahahah....aman sikit. except when we meet, of course. and cekmi sering menjadi mangsa pot-pet-pot-pet cekya & the rest of the gang..hehehe....
berbalik pada kengkawan yang suka mengamuk, how would you prefer your friends/families to react to you lepas luahkan masalah or issues pertaining to your goodself?
and would you pick who you would express yourself to, referring to the way you react? me, i actually pick to whom shall i speak to. and my blogsahabats, mostly are on top of my list. they just know how and when to advise.
how about you?
p/s : selamat berbuka puasa untuk hari ini. ;)
wassalam.