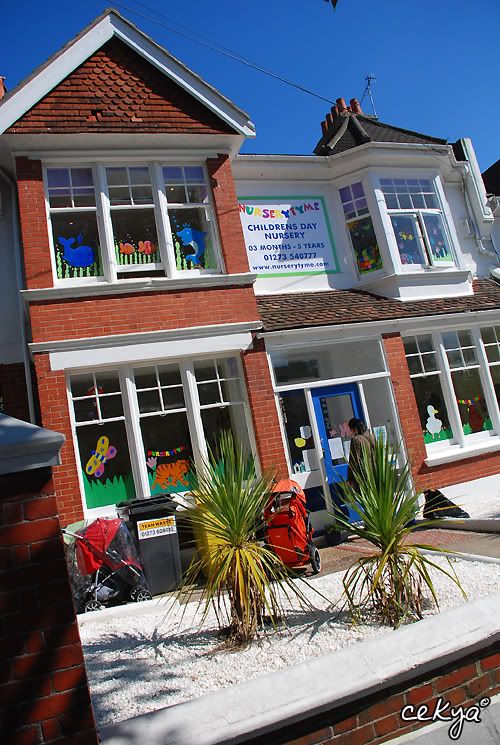 comel kan, sekolah alfie? hehehe...

he'll be happy and energetic when it's time to go to school early in the morn. he got a classmate named lizzie. diorang akan berbual bla blu ble gu gu ga ga each morn masa arrive as well as masa balik sekolah. lawak la. bersahut-sahut macam orang tua berborak. hehehe...

and bila balik tu, alfie will look as tired as his daddy. nampak letih sangat. kesian dia. then ada a piece of paper given, macam daily report. ada details on how much milk did he take, food for lunch, snacks. berapa kali wet & soil. and what makes him laugh or cry. active ke tak. i mean it's a good record for parents. i'm not sure about singapore tapi cekya tak pernah plak nampak nursery here in malaysia buat macam tu. at that point, rasa nak bukak nursery jek. hehehehe....!

nurseries in the uk, in brighton to be precise, ranges between 20-40 pounds a day. yes. realllly expensive. alfie's nursery's 38 pounds a day. he'll be sent to the nursery 3 times a week[that's when my auntie works.]. kalikan ajelah...
that's 456 pounds a month.

mahal ek. haihhh...lucky alfie.