salam!
the end of my week on friday was on a sad note. i cried, got a surprise call from the person i mentioned about 2 entries before. i was speechless but the voice i heard on my handphone made my eyes go teary again. and though my weekend was actually full of activities-shopping mainly, i still can cope. kadang-kadang tu termenangis jugak. sigh!

saturday ~~ 25 ramadhan
i started the day off kinda early. cekya ajak adik gi one utama to buy some stuff for raya. last minute shopping. surprisingly, tak banyak kereta. so i did my shopping dengan setenang-tenangnya. hehehe... masa nak balik tu, baru la ramai orang datang..

sunday ~~ 26 ramadhan
shopping lagi. hahaha..tapi beli barang dapur with my mom. macam biasa, ramai sungguh orang. tak reti balik raya ke diorang nih. eisk! anyways, my mom dah confirm, we're gonna head for muar after solat raya. then back to kl. on sunday baru balik jb and would be staying there for 3 days. the initial plan was to go back to muar, straight to jb and balik kl on the next day. TAPI, tido hotel. we're not gonna crash at my aunt's nor my arwah grandparent's place coz both houses dah penuh dengan our family. tak best betul idea ayah cekya tu. pujuk punya pujuk, he came out with the solution i mentioned earlier. lega! apa hal tido hotel time raya ek? tak besh langsung! hikhikhikhik...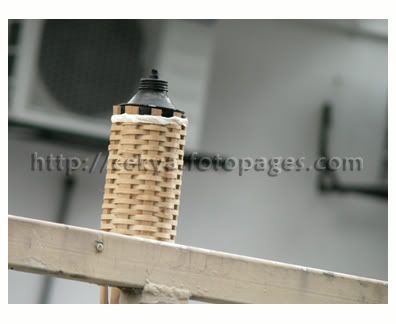 kl lengang pagi ni. lrt pun tak sesak macam selalu. tenang jek. i guess everybody dah sampai kampung masing-masing. i'm still at work today. busy sikit. time rest tadi, gantung ketupat yang cekya anyam guna ribbon kat rumah semalam. pink and blue. hahahha...gila betul colour combination. mama cekya ckp,"tak habis-habis dengan pink awak tu!" hahahaha...

apa pun, i hope everybody's gonna enjoy aidilfitri this year. as for me. i'm a bit down now. still have the feelings i had last friday so i prefer to be quiet and reserved. alhamdulillah, cekya dapat penuhi apa yang adik-adik nak untuk raya, and also i get to buy new things for mama & ayah.

whoever yang nak travel this coming holidays, please be careful, ok? makan pun agak-agak, nanti perut terkejut.. jangan nakal-nakal. and please, treasure your love ones.

wassalam.

p/s : cekya tak main mercun. bunga api pun tak main. rindunya bunga api cap king cat. hikhikhikhik!